Sale!
Red Admiral Barrel-Aged Dopplebock
Red Admiral Barrel-Aged Dopplebock is a dark amber, rich, smooth, nutty, strong ale that has been aged for 12 months in 6 French oak barrels. These previously held New Zealand Whisky Co's Double-Wood Whisky for many years. Only 2652 bottles were produced and each one is hand-numbered.
Order Confidently
Satisfaction Guaranteed
Secure Payments
Free shipping to NZ*
About This Beer
Red Admiral Barrel-Aged Dopplebock was aged for 14 months in 6 whisky casks that previously held a very special NZ single malt whisky.
This dark amber beer has a subdued whisky and hop aroma with hints of oak, vanilla and almond macaroon on the nose. There are flavours in the mouth of toasted marshmallow, burnt sugar, bready malt and dry sherry. This is followed by a soft alcohol warmth, mild bitterness with lingering hints of vanilla and almond from the oak.
Red Admiral will cellar gracefully for many years, but is fabulous right now. Do not serve cold! Treat it like you would a port or red wine and serve it in an elegant glass. The butterfly on the label is the New Zealand Red Admiral Butterfly. Only 2652 bottles were produced and each one is hand-numbered.
Want to try more than one variety? Choose 3 different barrel-aged beers!
Beer Details
Ingredients: Water, NZ Barley, NZ Hops, Yeast.
Brewers Notes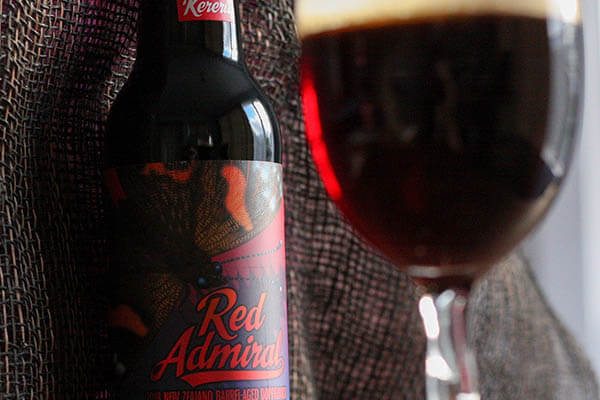 Kereru obtained 140 unique oak barrels from the NZ Whisky Collection, a company founded around the stock of the former Wilson's Distillery in NZ. The stock was lost for many years and was then found and the whisky had aged to perfection. Some of the casks were 60 year-old American oak ex-bourbon barrels which contributed vanilla, oak and hints of maple to the whisky. Some of casks were French and American oak ex-red wine barrels from Mills Reef which contributed red wine and port notes to the whisky. The casks arrived in small lots as they were decanted of whisky, and were wet and sloshing with a bit of magical spirits still inside. Each cask can impart its whisky character into a beer only once. After that the cask can be used again, but will only offer oak barrel character. This makes all our whisky barrel-aged beers unique and never to be repeated. Each bottle is hand numbered.
Food Matching
Cheese: blue, aged gouda, sharp aged cheddar
Mains: risotto, mu-shu pork, beef Wellington, venison, lamb
Dessert: fresh figs, fruit cake, steamed pudding